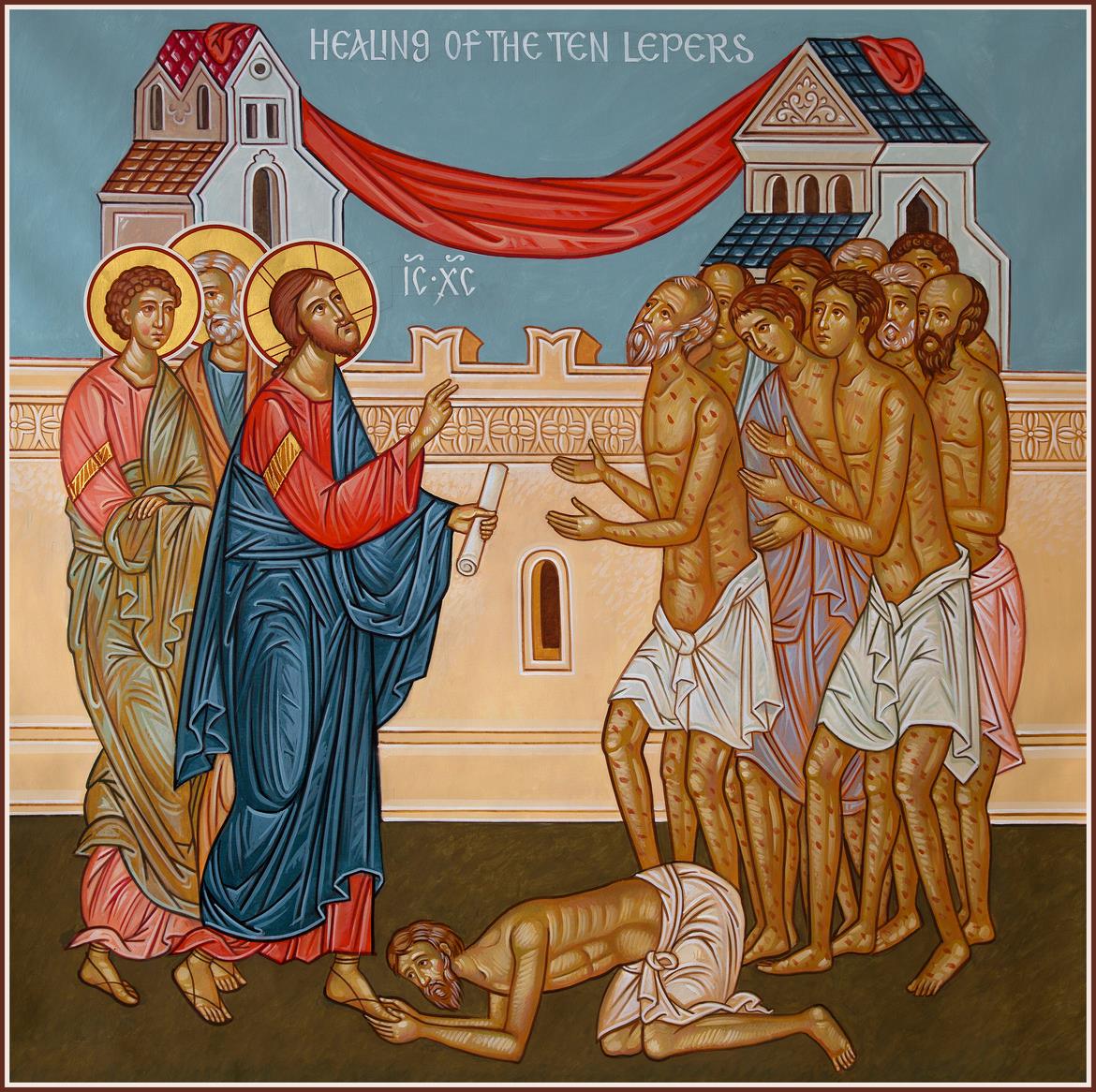 Read: Colossians 3:12-16; Luke 17:12-19
"And let the peace of Christ control your hearts, the peace into which you were also called in one body. And be thankful" (Colossians 3:15).
"And one of them, realizing he had been healed, returned, glorifying God in a loud voice; and he fell at the feet of Jesus and thanked him. He was a Samaritan. Jesus said in reply, "Ten were cleansed, were they not? Where are the other nine? Has none but this foreigner returned to give thanks to God?" (Luke 17:15-18).
This Sunday comes between two great feasts: thanksgiving and Christmas. On Thanksgiving we feed ourselves with the bounties of God's creation, and, hopefully, thank him for these blessings, because, as we pray in the common Ambon Prayer, "you are the giver of every perfect gift." On the coming feast of Christmas, we are already thinking of what gifts we can give to each other, and parents will teach their children to give thanks to everyone who gives them a gift. The word for gift in Greek is "eucharist," which means "to really show favor to another." If someone shows favor to us, it is humanly natural and normal for us to show favor in return according to our means. Jesus comments the even sinners do good to those who do good to them (Luke 6:33). Of course, sometimes that doesn't happen and we call that a betrayal. On Christmas, God is the one who shows the greatest favor, as the angels sang at his birth, ""Glory to God in the highest and on earth peace to those on whom his favor rests" (Luke 2:14). This gift is God's only Son, whom the Father gave to the world "so that everyone who believes in him might not perish but might have eternal life" (John 3:16).
This is so important that we repeat this passage from Scripture in every Divine Liturgy of St. John Chrysostom. This gift is also the gift of peace, for St. Paul tells us that Christ is the peace of God, "For he is our peace, he who made both one and broke down the dividing wall of enmity, through his flesh, abolishing the law with its commandments and legal claims, that he might create in himself one new person in place of the two, thus establishing peace" (Ephesians 2:14-15). For this, like the healed leper, we must give thanks to God. But if God shows us this great favor, "what," as the psalmist says, "can I return to the Lord for all he has given me?" (Psalm 115:3). God has no need of anything that we can give him. What we can give him is our sacrifice of praise, our words of glorification. We are like the little drummer boy in the popular Christmas sing, "I played my best for him." Precisely in receiving God's gift of love and peace, we are ourselves transformed into God's love and peace, so that St. Paul tells us in today's epistle,. "let the peace of Christ control your hearts," so that we can "put on then, heartfelt compassion, kindness, humility, gentleness, and patience, bearing with one another and forgiving one another" (Colossians 3:12-13). To do this would be our Christmas thanksgiving.