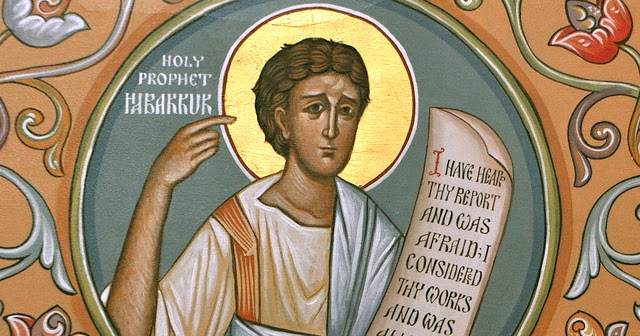 Today is the feast of the Holy Prophet Habakkuk. As you know, the Byzantine Church pays more attention, liturgically speaking, to the Old Testament prophets.
The fourth Ode of the Canon of Matins is the Hymn of Habakkuk. The Irmosi of the Canon often describe Habakkuk as standing at a guard post (watchtower): "I will stand at my guard post, and station myself upon the rampart; I will keep watch to see what he will say to me, and what answer he will give to my complaint. (Habakkuk 2:1) Thus, at Paschal Matins, we sing, "Let Habakkuk, speaking in behalf of God, stand with us at the divine watch; let him show us the brilliant Angel who proclaims: "Today, salvation comes to the world; for Christ, being Almighty, is risen." What Habakkuk saw at his guard post was a vision of the coming of Christ. "God came from Teman, the Holy One from Mount Paran. His glory covered the heavens, and his praise filled the earth; his splendor spread like the light." Teman is the East, the sunrise from on high in the Christmas Troparion, "those who worshiped the stars have learned from a star to worship you, the Sun of Justice, and to know you, the Dawn from on high." In the Greek Septuagint, Mount Paran becomes the "dark, shady mountain," and was seen as a prophecy of the virgin birth of Christ from Mary.
The Christmas Irmos explicitly recognizes this: "O Christ, the rod from Jesse's root and its flower, you blossomed from the virgin; praiseworthy one, from the overshadowed shady mountain. You came in the flesh from her who knew not man." What was the result of Christ's coming, Habakkuk foretells, "He stood and shook the earth; he looked and made the nations tremble. Ancient mountains were shattered, the age-old hills bowed low, age-old orbits collapsed." The "orbits" were the established journeys of the stars, and indeed, at Christ's birth, a new star appeared, leading the Magi to Bethlehem.
Habakkuk tells us that our lives will be shaken by the coming of Christ. We must follow the star, for by taking human nature and by rising from the dead, Christ has brought us life.
Meditation by Archpriest David Petras