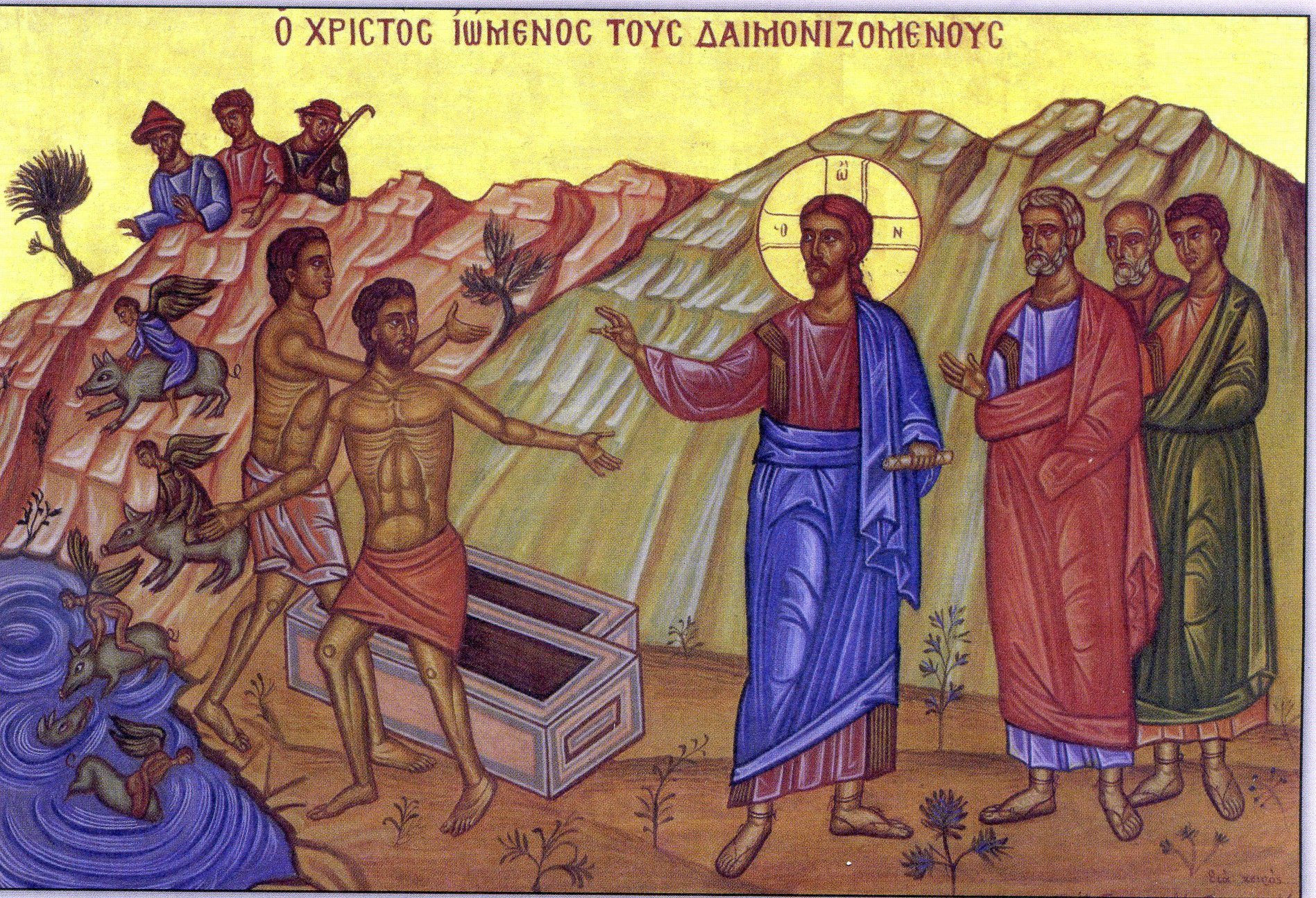 Read:
Ephesians 2:4-10
Luke 8:26-39
The Gospel for this Sunday: Luke 8:26-39, the story of the Gadarene Demoniac. Then Jesus asked him (the demon), "What is your name?" He replied, "Legion," because many demons had entered him. And they pleaded with him not to order them to depart to the abyss. A herd of many swine was feeding there on the hillside, and they pleaded with him to allow them to enter those swine; and he let them" (Luke 8:30-32).
It is said that this is one of the more difficult gospels to preach on, but it is rich in symbolism.
First, we see that evil cannot stand before Jesus. For God is one, as St. Paul said,
"There is one body and one Spirit … one Lord, one faith, one baptism, one God and Father of all…" (Ephesians 4:4-5).
Evil, however, is divided among itself, for there are many, Legion. And Jesus said, "If house is divided against itself, that house cannot stand" (Mark 3:25). So evil is already overcome, and Jesus says, "Be of good cheer, I have overcome the world" (John16:33).
Evil brings death, that is why the possessed man has to live in the tombs, and why, when the demons enter the swine, they immediately perish. Why should we fret, for Jesus "has overcome the world," and we have the one Spirit, who is guiding the Church to the real truth of the one God who is mercy and compassion? St. Paul tells us today that faith in Christ is life, "You were dead in your transgressions and sins …. But God, who is rich in mercy, because of the great love he had for us, even when we were dead in our transgressions, brought us to life with Christ (by grace you have been saved), raised us up with him, and seated us with him in the heavens in Christ Jesus. (Ephesians 2:1.4-6)"