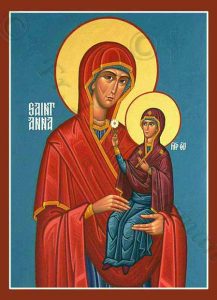 Today we liturgically recall the Dormition of Saint Anna, Mother of the Most Holy God-bearer Theotokos –the grandmother of our Savior, Jesus Christ.
"And gazing towards the heaven, she saw a sparrow's nest in the laurel, and made a lamentation in herself, saying: Alas! Who begot me? And what womb produced me? Because I have become a curse in the presence of the sons of Israel, and I have been reproached, and they have driven me in derision out of the temple of the Lord. Alas! To what have I been likened? I am not like the fowls of the heaven, because even the fowls of the heaven are productive before You, O Lord. …. And, behold, an angel of the Lord stood by, saying: Anna, Anna, the Lord has heard your prayer, and you shall conceive, and shall bring forth; and your seed shall be spoken of in all the world" (Protoevangelium of James, 3,4).
The story of Anna giving birth is found only in the apocryphal work, the Protoevangelium of St. James. The story, though, is the great tradition of Abraham and Sarah, where their childlessness was taken away in old age. This is true also of Zachary and Elizabeth – for those who were barren, Hod bestows an abundance of blessings, the giving of birth to people who are most important for our salvation.
St. Paul comments on this in today's epistle, "For it is written: 'Rejoice, you barren one who bore no children; break forth and shout, you who were not in labor; for more numerous are the children of the deserted one than of her who has a husband'" (Galatians 4:27). This is truly the hallmark of God's saving action. Those who seem abandoned are those whom God blesses the most. Therefore, the greatest sin we can commit is despair, thinking that God cannot save us. Peter denied Christ, Judas betrayed Christ, but Peter wept in hope and Judas wallowed in despair. Today's feast tells us that God never abandons those who put their faith in him.
Blessed is Anna, who became the grandmother of God!