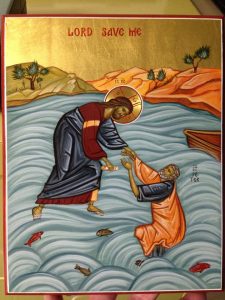 Read: 1 Corinthians 3:9-17; Matthew 14:22-34
Today Jesus walks on water to come to the salvation of his followers. As bread in last Sunday's gospel symbolized the Body of the Lord, so the waters symbolize the waters of baptism. Baptism, indeed, is dangerous, it brings death to the sin which resides in us. St. Paul teaches us: "Or are you unaware that we who were baptized into Christ Jesus were baptized into his death? We were indeed buried with him through baptism into death, so that, just as Christ was raised from the dead by the glory of the Father, we too might live in newness of life" (Romans 6:3-4).
The water in today's gospel remind us how dangerous water can be, it can drown us and extinguish our lives. The waters of baptism, however, destroy sin. Jesus is the one who comes to us over the water. We see that through him the waters of baptism brings life. Though Peter loses his confidence, Jesus pulls him up from destruction. The Lord thereby shows us the path to a higher calling. Just as walking upon water is above human power, so too the grace of God lifts us above our natural calling that we might become one with God in the new calling of deification.
Meditation by Archpriest David Petras