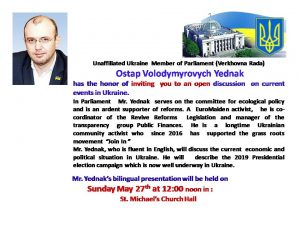 The St. Michael the Archangel Ukrainian Church community in New Haven welcomes Ostap Yednak, member of the Ukrainian Parliament (Verxovna Rada), who will speak on the current political, economic and security situation in Ukraine as well as the Presidential campaign currently underway.
The conversation will be bilingual and will take place on Sunday, 27 May at 12:00 noon at St. Michael's church hall, 569 George Street, New Haven.
All are welcome to participate.