"Who stopped the hand of the disciple from being melted when he approached the fiery side of the Savior? Who gave him such boldness, to be able to touch this blazing door?" – Ikos of Thomas Sunday.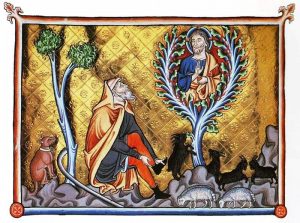 When God appeared to Moses, he first spoke to him from the burning bush. "There the angel of the Lord appeared to him as fire flaming out of a bush. When he looked, although the bush was on fire, it was not being consumed. So Moses decided, "I must turn aside to look at this remarkable sight. Why does the bush not burn up?" (Exodus 3:2-3). Later God was to tell Moses on Mount Sinai, "But you cannot see my face, for no one can see me and live" (Exodus 33:20). Indeed, the Epistle to the Hebrews declares, "our God is a consuming fire" (Hebrews 12:29).
The image of the burning bush of Moses was later to be applied to Mary, the Birthgiver of God. She was able to bear the Son and Word of God in her womb. The burning bush reveals to us that the love of God is so intense that it would destroy us, fragile and mortal as we are. Yet in becoming a man, the Word of God became a transforming fire, uniting the human nature to God, thereby deifying us, protecting us by grace that we are able to touch God himself present in a human body. This is the meaning of the revelation to Thomas, as God says, "Touch me now, for now you are deified and can touch God. Then Jesus tells Thomas, "Have you come to believe because you have seen me? Blessed are those who have not seen and have believed" (John 20:29). We are those who have not seen what Thomas saw, but are able now to see the eucharist, and to touch and partake of the body of Christ, our connection with God. Therefore, in some Eastern Churches the bread of Holy Communion is the coal that touched the lips of Isaiah, "Then one of the seraphim flew to me, holding an ember which he had taken with tongs from the altar. He touched my mouth with it. "See," he said, "now that this has touched your lips, your wickedness is removed, your sin purged" (Isaiah 6:6-7). Like Thomas, we too can touch God by grace.
Meditation by Archpriest David Petras