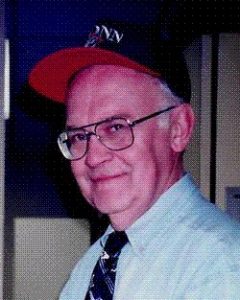 Allan Yursha, 82, of Wallingford, died peacefully at home March 4, 2018. He was the beloved husband of Mary Ann (Herceg) Yursha.
He was born in McAdoo, PA, July 23, 1935, a son of the late William and Mary (Suhena) Yursha and was a U.S. Air Force Korean War Veteran. He worked as a design draftsman at Pratt & Whitney Aircraft until his retirement in 1992 and then worked at the Wallingford Public Library until 2001. He was an active member of St. Michael the Archangel Ukrainian Catholic Church in New Haven where he served as Past Treasurer and as Past President of St. Michael's Holy Name Society. He was awarded the Papal recognition in 2005.
In addition to his wife Mary Ann, he is survived by his three daughters, and sons-in-law, Ann E. and Paul Lehr, Mary L. Johnston and Hans Hanson, and Juliann M. and Neil Bukowski; his three grandchildren, Jessica M. Sanchez (David), Neil "Rob" Bukowski (Mariah Franco), and Alexis S. Bukowski; his great granddaughter, Delanney Luz Sanchez; Bernandine Elko; his sister-in-law, Betty Jane Yursha; and many nieces and nephews.  He was predeceased by his siblings, Vladimir Yursha, Eugene Yursha, and Dorothy Yursha. Allan loved his family very much and his family always came first.
His family will receive relatives and friends in The Wallingford Funeral Home, 809 N. Main Street Ext., Wallingford, on Friday, March 9, from 4 to 7 p.m. The Panahyda service of prayer will be at 6:00 p.m. at the Funeral Home.
A Mass of Christian Burial will be celebrated on Saturday at 10 a.m. directly at St. Michael the Archangel Ukrainian Catholic Church, 569 George St., New Haven. Interment will be private in the State Veterans' Cemetery in Middletown. In lieu of flowers, gifts in his memory may be sent to Masonicare Hospice, 33 N. Plains Industrial Rd., Wallingford, CT 06492.