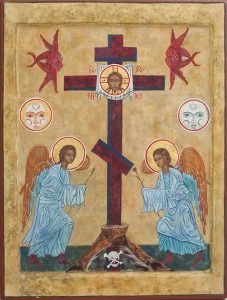 The first half of the Great Fast tells us the stories of Adam and Eve and their children, and the flood of Noah. It is a story of the creation of a perfect world and how that has been marred by human sin. It tells of the end of paradise, "The Lord God therefore banished him from the garden of Eden, to till the ground from which he had been taken. He expelled the man, stationing the cherubim and the fiery revolving sword east of the garden of Eden, to guard the way to the tree of life" (Genesis 3:23-24).
Today, however, begins a new story, and we sing, "No longer does the flaming sword guard the gates of Eden, for the tree of the cross has come to quench it wondrously. The sting of death and the victory of Hades have been driven out. For you, O my Savior, stood and called out to those in Hades: Enter again into paradise."
The tree of life, which Adam and Eve attempted to seize against the will of God, is the tree of the cross. And the fruit of this tree is the Body of Christ, which we receive in Holy Communion "for the forgiveness of sins and life everlasting." We receive it together with his Holy Blood, "shed of the life of the world," for today's Gospel tells us, "Whoever wishes to come after me must deny himself, take up his cross, and follow me" (Mark 8:34). Today we understand the words of our Lord,  "Amen, amen, I say to you, unless you eat the flesh of the Son of Man and drink his blood, you do not have life within you" (John 6:53).
The Romans crucified thousands of people, many of whom were innocent. Yet of all these people, only our Lord Jesus Christ is remembered. This is because it is not the method of torture, or the gruesome of his death that matters, but the infinite love that shone forth from his sacrifice on the cross. This is what is important for us, we may not have to die in such a painful or unjust way, but we do have to be united in the love that God shows forth on the cross. This is what it means "to take up the cross." I personally think that for each and every one of us, it means denying for ourselves something that we crave very earnestly, a painful self-denial, if you will, for the sake of true deifying love for God and for others. This is why the cross, originally an instrument of torture and shame, has become for us the trophy of salvation. The joy of the Fast is that through God's love we come to the fullness of life.