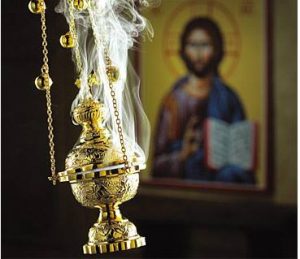 Matins:
Wondrous indeed is the weapon of prayer and fasting. To Moses it revealed the Law, and as a sacrifice it inflamed the zeal of Elijah. By keeping it we faithfully cry out to the Savior: Against you alone have we sinned, have mercy on us.
Let us keep a spiritual fast: let us break every hypocrisy; let us flee the traps of sin; let us forgive the offenses of other, so that our sins might also be forgiven. Thus we shall all be able to sing: May our prayer rise like incense before you, O Lord.
At every Vespers we sing, "Let my prayer rise like incense." Why do we want our prayers to rise – so that God may accept them and grant us forgiveness. This is the vertical dimension, but it is not effective without the horizontal dimension, we must forgive one another. The true meaning of a spiritual fast is an insisting on this theme during the Great Fast.
Meditation by David Petras