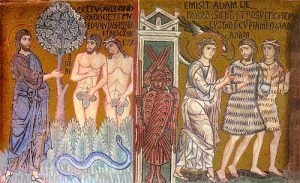 The readings from Genesis on the Fridays of the Great Fast point like an arrow to the covenant made on Good Friday, when our Lord gave his body and blood as a new covenant for the life of the world.
The first and second Fridays tell of the breaking of covenants, of the covenant with Adam and Eve when they ate of the fruit of the tree of the knowledge of good and evil, and of the decision of God to destroy the human race because of its wickedness. The third Friday is the renewal of the covenant with Noah, and the fourth Friday is the covenant with Abraham. On the fifth Friday, Abraham replaces the disobedience of Adam and Eve with obedience to God in the sacrifice of his beloved son. However, God does not want this sacrifice, though he allows his only-begotten Son to die on the cross for the salvation of the human race. The sixth Friday, the funeral of Joseph, looks forward to the burial of Christ, who through his death will trample upon death.
This is our Fast, it is the making of a new covenant with God. When Adam and Eve sinned, they were expelled from paradise, and stationed a cherub with a fiery sword to guard the way to the tree of life. Four curses were imposed on Adam and Eve, on Eve, pain in childbirth, and servitude to her husband, on Adam, hard labor and death.
In the new covenant of our Lord Jesus Christ, the curse is abrogated, as the Kontakion of the Third Sunday of the great Fast proclaims, "No longer does the flaming sword guard the gates of Eden, for the tree of the cross has come to quench it wondrously. The sting of death and the victory of Hades have been driven out."
The curse is truly abrogated, but in God's mystical and wondrous way. In childbirth, the woman still suffers pain, but her anguish gives way to joy because of new life (John 16:21), the marital relations between man and woman are now marked by mutual love and respect, in the subtle reading of Ephesians 5:9-19, the harshness of labor is eased by the sabbath rest (Hebrews 4:9). Death remains, and even the Son of God must suffer death ("Christ has redeemed us from the curse of the law, having become a curse for us, for it is written, 'Cursed is everyone who hands on a tree," (Galatians 3:10, quoting Deuteronomy 21:23).