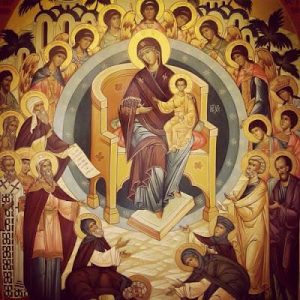 Today, the day after the Christmas feast the Byzantine Church honors Mary, the Mother of God (Theotokos) with a special feast day of remembrance.
Our meditation is given by Father David Petras.
Many Byzantine feasts have a commemoration on the day after a great feast called a "synaxis," that is, an "assembly" or "gathering" in honor of one who participated in the feast. No more honorable person could ever be found than the holy Lady, the Mother of God. This feast of her Synaxis was actually the most ancient, the first, celebration of her memory on the church calendar, because her giving birth to the Son of God was truly her greatest glory. It was by her free will, ""Behold, I am the handmaid of the Lord. May it be done to me according to your word. (Luke 1:38)," that our God and Creator became one of us. It was certainly her joy that she gave birth to this child, but we commemorate on this day all the suffering she bore because of her choice, the near repudiation by Joseph, the persecution of her son by Herod, causing them to flee for their lives to Egypt, until, at the end, she had to endure seeing her beloved son crucified as a common criminal on the cross.
So, Simeon the prophet told her, " "Behold, this child is destined for the fall and rise of many in Israel, and to be a sign that will be contradicted, and you yourself a sword will pierce, so that the thoughts of many hearts may be revealed. (Luke 2:34-35)" Truly, she became by her suffering an intercessor with her Son. We must ask if we are prepared, as St. Paul, who wrote "Now I rejoice in my sufferings for your sake, and in my flesh I am filling up what is lacking in the afflictions of Christ on behalf of his body. (Colossians 1:24)" We also have the comfort of knowing, if we unite our will with that of Mary, that we, too, can become bearers of God through Communion in his Body and Blood by our own free will.