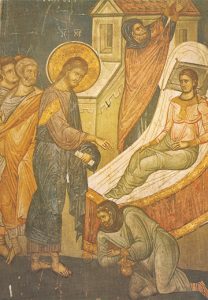 Meditation by the Very Rev. Dr. David M. Petras
Ephesians 4:1-6; Luke 8:41-56
The Gospel of St. John tells us: "For just as the Father raises the dead and gives life, so also does the Son give life to whomever he wishes. (John 5:21)" As we read the Gospel of St. Luke in the Sundays after the Exaltation of the Holy Cross, we witness this again and again. Jesus brings the son of the widow of Nain back to life. In the story of Lazarus and the Rich Man, we are reminded of the Resurrection of Lazarus, in the story of the man possessed by a legion of demons, Jesus brings him back into life from living among the tombs. Death cannot remain in the presence of Jesus, our Lord and our God, and so each Sunday we celebrate his resurrection from the dead. Today we tell another resurrection story: Jesus raises to life the daughter of Jairus, an official of the synagogue, and he heals the woman with the hemorrhage just by a touch, because death cannot exist in the presence of the Lord. The ancients identified death with the loss of blood, the life-fluid, so Jesus returns life to within her. We worship then Jesus and Lord and we pray to him, for no matter who we are, Jesus will give us life, and the fullness of life. St. Paul's letter to the Ephesians, also read today teaches us that life in unity in "one Lord, one faith, one baptism." If, indeed, we find life in Christ, we are alive in the one God, one in the Holy Trinity, "one God and Father of all," so that life means "live in a manner worthy of the call you have received, with all humility and gentleness, with patience, bearing with one another through love. (Ephesians 4:1-2)" Lord, make us one, make us alive!