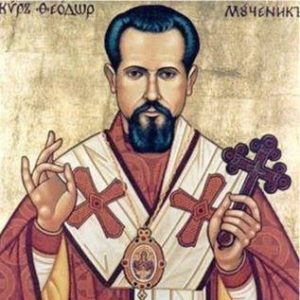 In the Byzantine Catholic Church keeps the feast of Blessed Theodore Romzha is celebrated today. He was a martyred bishop of Mukachevo in Transcarpathia who was killed by the Soviets in hatred for the faith.
"I love you, O Lord, my strength; You are my stronghold and my refuge!" (Psalm 18: 2-3)
These were the words which Bishop Theodore G. Romzha, the Apostolic Administrator of the Mukachevo Eparchy (1944-1947), chose as the motto for his episcopal ministry. At the age of 33, he faced the one of the most brutal and bloody persecutions of a Christian community in modern times, ultimately making the ultimate sacrifice for his flock and his faith.
Bishop Romzha was beatified by Pope John Paul II on June 27, 2001. His relics are enshrined in Holy Cross Cathedral in Uzhorod, Transcarpathia.
His feast was originally celebrated on November 1, and is thus listed in the Roman Martyrology at #19 on that day. During the days of the Soviet control of Ukraine, there was but one "time zone" in the U.S.S.R. The bishops of Ukraine petitioned Rome that the feast date be changed to Oct. 31, due to the fact that it was on that date that the martyr was actually murdered.
Here's a hymn for Blessed Theodore